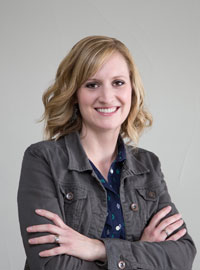 The goal of our designer, Wendy, is to create beautiful interiors that clients of NoCO Custom Homes will love. And learning that she has succeeded is her favorite part of her job.
Wendy finds that many times her clients don't really know what they like until they see it, or they have a hard time explaining what it is that they like. To make the process easier, she typically asks clients to collect pictures of design elements or interiors and exteriors they love, either online or from books or magazines. She will talk through the pictures with them so they can all identify what exactly they love about each one. From there, she's able to get a good idea of what kind of design they are looking for and then she can get to work.
When she's not working on home designs, Wendy loves to read and do anything crafty. Lately, her obsessions have been with making wreaths and refinishing furniture. She loves taking pictures of her four kids and spending time with them and her husband. As a family, they love to travel and explore new places together.