What Kitchen Countertop Material is Best For You?
Finding the perfect kitchen countertop material for your custom kitchen can be difficult with so many beautiful and high quality materials to choose from. Kitchen countertops are a major element in the design of your kitchen, but they must also be durable enough to withstand the daily function demanded of them.
To help you choose a kitchen countertop material for your dream home, here is some basic information about 6 of our favorite options.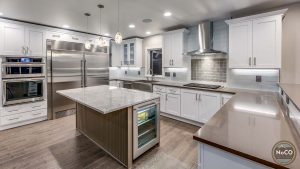 Quartz
Quartz countertops are quickly becoming one of the most popular selections for kitchens. Quartz is an engineered stone product that is made using ground quartz particles and a combination of polymers and resins.
Quartz is made to look like natural stone, but lacks the natural imperfections that come with a product pulled directly from the earth. It offers a hard surface quality like that of granite making it easy to maintain, resistant to stains and scratching, and does not require sealing.
Available in a wide variety of colors, quartz has a lustrous three-dimensional appearance that adds a beauty and luxury to any decor style. It can easily be customized to fit the size and shape needed for the design of your kitchen.
Granite
Granite has long been one of the most sought after options for luxury countertops. A natural stone material, granite is available in varying grades of thickness and an impressive range of colors. It also comes with natural imperfections and veining that will deliver a unique element of design for any kitchen.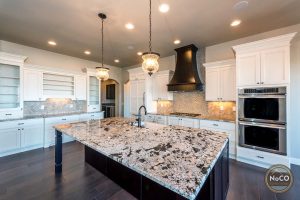 Granite must be carefully sealed, but when properly cared for, it provides a highly durable, stain and heat resistant countertop that is not only functional, but also elegant.
Like quartz, granite does come at a higher cost, however its value and durability will make it a worthwhile investment for any kitchen.
Marble
Marble has long been considered a top choice in terms of luxury and elegance. Each sheet of marble features unique veining that will add distinction and beauty to your custom kitchen.
Marble is incredibly resistant to heat and moisture, however it is extremely porous and can stain or scratch easily if it is not properly sealed. With proper care and consistent sealing, marble can provide a stunning option for luxury custom kitchens.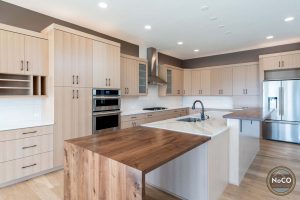 Butcher Block
Butcher block is the perfect countertop material for homeowners looking to bring warm, rustic beauty into their kitchen. Butcher block is a wood countertop available in many colors and finishes. Butcher block offers convenience and functionality, however they do require consistent maintenance to prevent water damage, staining, or cracking.
When properly cared for, butcher block countertops will provide a long-lasting option that will add a cozy, natural feel to your kitchen. Because they require more maintenance than other countertops materials, many homeowners choose it for an island or built in cutting surface.
Concrete
To match the growing trend in industrial design, concrete countertops offer a unique and durable alternative to traditional countertop materials. Concrete can be poured to fit the unique dimensions of your kitchen, but they can also be purchased in precast options. It can also be finished in different colors and textures to create a polished and distinctive look to modern, contemporary, or industrial kitchens. Concrete is incredibly durable and heat resistant, however it can stain easily or be susceptible to cracking over time, making routine sealing incredibly important.
Stainless Steel
Another popular choice for countertops within modern or industrial kitchen design is stainless steel. Known for being extremely heat resistant, easy to clean, and long lasting, stainless steel countertops create a sleek complement to contemporary and traditional kitchens alike. Stainless steel countertops are available in variety of finishes and edge profiles to create the customized look that fits the vision for your dream kitchen. Although it offers a highly functional and long-lasting countertop, it can dent or scratch easier than other materials and inevitably creates more noise in the space. Stainless steel is simple to install, easy to maintain, and creates the allure of a gourmet restaurant within your custom home.
Building a custom home with NoCO Custom Homes provides you with countless possibilities to achieve the kitchen of your dreams. We work alongside you to help choose the materials that will come together to create a home crafted to your individual needs and desires.
Call us today at (970) 581-0481 or contact us to learn more.