5 Must-Have Features For Your Custom Bathroom
The bathrooms of your custom home can be designed and tailored to provide more than their intended function. Going beyond showering, bathrooms can become a place of relaxation and rejuvenation or even a spa-like escape found in the comfort of your own home. As you carefully work to make selections that will reflect your style and needs, don't let your custom bathroom fall to the bottom of the list. To help you look past vanities and shower stalls, here are some must-have features to consider for the luxurious bathroom you deserve.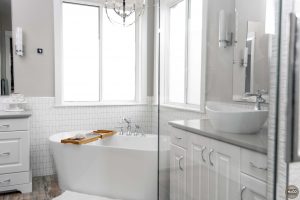 Freestanding Bathtub
Opting for a freestanding bathtub over the built-in counterpart can add elegance and drama to any bathroom. It can also help you create a bathroom sanctuary from where you can soak, relax, and wash the day away. Freestanding tubs are available in a wide variety of shapes and styles to fit the design scheme of your home. It can be placed in the corner of the bathroom, such as in this home, to make the most of the beautiful natural light coming in through corner windows. Or it can also be placed within an oversized shower to trap in warmth and steam. In spacious bathrooms, the tub can even be placed in between sinks and vanities to add dimension and a change to the typical bathroom layout. Regardless of where you choose to place it, a freestanding soaking tub is one of our favorite custom bathroom features.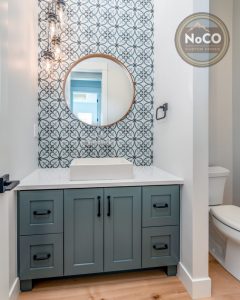 Bold Bathroom Wall Tile
Subway tile has been long-been one of the most popular choices for bathrooms, but there are many other options that can be used to make a bold and beautiful design statement. Bathroom tile is available in countless patterns, materials, shapes, sizes, and colors to fit the vision you have for your bathroom. Whether you choose floor to ceiling tile on a single wall, a unique pattern on the floor, or you prefer to concentrate on a bold backsplash, consider looking beyond the typical tile selections to create a bathroom that stands out like the beautiful bathrooms found in this home.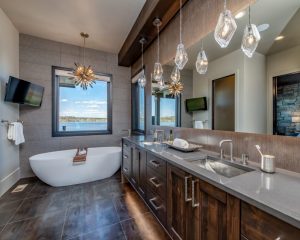 Bathroom Pendant Lights
Pendant lights are typically considered for kitchen islands, but as seen this gorgeous home, they can be a bright and artistic element in the design of your bathroom.  With beautiful lighting, you can add the spa-like ambiance needed for a bathroom oasis while also providing you with the lighting you need in your bathroom. Pendant lights allow you to add a unique decorative touch that will also work to enhance and complement the natural light of the space.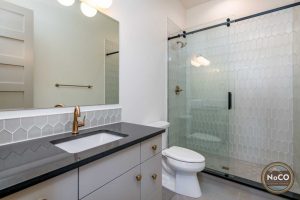 Gold Bathroom Fixtures
Gold fixtures have quickly regained popularity providing a warm and sophisticated touch to spaces all throughout the home and bathrooms are no exception. From faucets to hardware, gold fixtures can provide the perfect compliment for both cool and warm tones in cabinetry and tile or the perfect finish for a freestanding tub or luxurious shower. Gold fixtures are a timeless selection to complete any style of bathroom. In this modern bathroom, gold faucets were used for both the sinks and bathtub, while gold was also chosen for light fixtures and towel racks providing a beautiful contrast to crisp white walls and bold black tiles.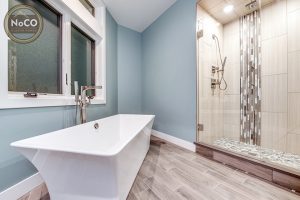 Frameless Glass Shower
Frameless showers can add aesthetic appeal to any sized bathroom. By eliminating thick metal framing, the shower becomes a seamless component of the bathroom making your custom bathroom look and feel bigger. Made with glass panes, this style of shower can easily be made to fit the architecture of any space such as in the unique shaping of the bathroom in this home. Glass doors also allows for a better flow of both natural and artificial light throughout the bathroom.
Building your custom home in Northern Colorado provides you with the opportunity to make every room in the house your own. There are opportunities to tailor your master and guest bathrooms to fit any need or desire. For more ideas on creating the home (and bathroom) of your dreams, contact our team at NoCO Custom Homes today.