For many, customizing the garage of your custom home can be just as important as the finishes found inside the house.  The garage can be so much more than a simple concrete space used for storage. It might be where you keep your toys, a woodworking shop, a gym, your personal mechanic shop, and so much more. There are many different ways to build a garage that fits the home of your dreams, but here are just a few basic considerations to get you started.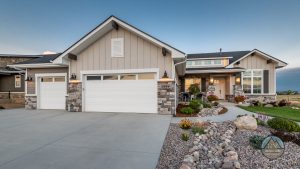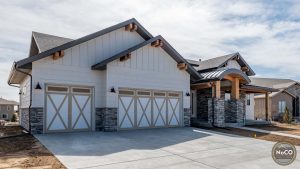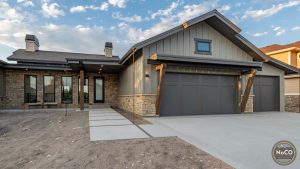 Choose A Garage Door To Fit The Style Of Your Home
The style of garage door you choose can significantly impact the look of your custom home. The garage door accounts for a significant percentage of your home's façade and curb appeal providing balance, character, and charm to complete the look of the home. There are many types of garage doors to choose from making it easy to find the door that will best fit the architecture and style of your house.
The most common types of garage doors include:
Traditional Style: Traditional doors offer a classic and versatile look that will complement a variety of home exteriors. They feature symmetrical horizontal panels that roll inside into the garage. Available in a wide variety of colors and materials, a traditional door will easily match a wide range of architectural styles.
Contemporary Style: Modern architecture is easily matched with a contemporary style door featuring clean lines that can be showcased with a variety of elements including glass, metal, painted aluminum, or even wood.
Carriage Style: Carriage style doors offer the charm and character of carriage homes. Available in many materials, finishes, and even designs, carriage style garage doors can be the perfect complement to any craftsman, farmhouse, or traditional home.
There are many other unique styles of garage doors available on the market, creating countless possibilities to find the door style that will enhance the curb appeal of your home while also fitting the functionality of your garage.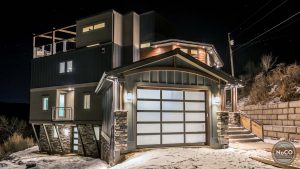 Take Advantage Of Smart Technology In Your Garage
Smart technology is available for nearly every aspect of a home and the garage is no exception. With an upgraded garage door opener, you will have better control over the functional features of your door opener. Smart garage door openers make it possible for you to open and close your garage door from an application on your smartphone, regardless if you're home or not. With this feature, you can better protect the investment you've made in building a custom home and ensure the security of your family and belongings.
Custom Finish Your Garage Flooring
Finishing the floors in your garage is one simple way to boost value in your home, while also creating a more polished look inside the garage. Garage floors are most typically left to concrete, but in a custom home you have the freedom to choose the floor that is perfect for your needs. Epoxy garage floors are quickly becoming one of the most popular selections. Epoxy coatings provide a long-lasting flooring that is not only durable and resistant to moisture or stains, but that also creates an attractive finish. Epoxy garage floors can be done in nearly unlimited designs and colors to create a garage that is custom-finished to your style.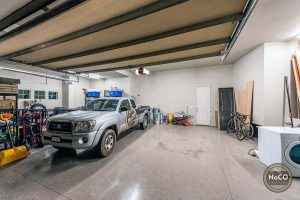 Create Attractive Storage Solutions
The garage can inevitably become the designated storage area of a home. Rather than stacking boxes or letting stuff pile up in your garage, consider having custom storage solutions and garage shelves built into the space. Storage systems can be built into the walls through cabinets, shelves, and more, but it can also be installed on the ceiling. Overhead storage allows you take full advantage of your space creating additional storage without taking up floor or wall space. With built-in storage options you can keep tools, sports equipment, yard work tools, and so much more organized and accessible.
Don't Hesitate To Make The Garage Bigger
You won't often hear someone complain that their garage is too big. Be sure that the size of your garage will accommodate your needs, whether it is for the number of cars you have or to fit a boat or camper. Adding square footage and ceiling height to your garage might be one of the easiest decisions to make providing you with plenty of space and convenience.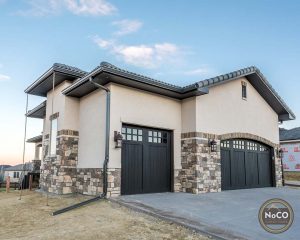 At NoCO Custom Homes, our goal is to build you a home that is fully tailored and customized to your family's needs, even in the garage. Contact us today to talk about the options of your dream home and dream garage.