As you're dreaming about possibilities or even finalizing plans for your new custom home in Northern Colorado, you might not realize the potential that lies in finishing a basement. Basements have all too often been left unfinished to save money in the budget leaving a useful, yet lackluster area of the home. Today, custom basements offer the opportunity to expand the design of your dream home and create a spectacular space for any lifestyle. 
From simple and practical to unique and extravagant, a finished basement is sure to add value to your home and your family. Here are five of our favorite basement ideas for custom homes.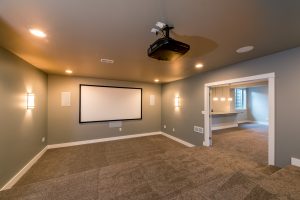 Home Theater
With so many streaming services available, it's never been easier to watch your favorite movies from the comfort of your own home. With a home theater in your finished basement, the nostalgia of going to the movies isn't lost. Have your architect design a room with little to no windows where the big screen is what lights up the room. From there you can customize the space to fit any theme or feel from Old Hollywood to sleek and contemporary. Whether you plan for recessed flooring or raise the floor, you can accommodate rows of plush recliners or oversized couches to bring a greater degree of comfort. With a little imagination and excellent design, your basement can transport you to another world just as the movie you're watching.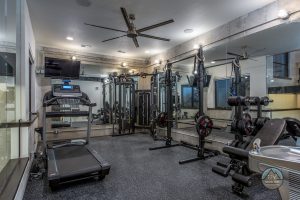 Home Gym
Building a custom home makes it possible for you to fully tailor your house to invest in the needs and interests of your lifestyle from daily living through to health and wellness. The basement offers a perfect location for a well-equipped home gym. A basement gym can be outfitted to fit whatever form of exercise you prefer, whether you want a serene yoga room or prefer a dedicated weight room. Lighting, flooring, integrated music systems, and more can take a room of any size and create a motivating space where you can achieve your fitness goals from the comfort and privacy of your own home. 
Sports Den
Whether you're loud and wild or quiet and focused, as a sports fan there's nothing greater than the game. With a sports den in your finished basement, you never have to miss a game. Instead of your typical basement rec room or mancave, make your house the place to be every football Sunday or the perfect spot to unwind after work. Comfortable couches and a big screen tv are a good starting point, but your custom home has the potential for the ultimate sports den. Take the design of your finished basement to the next level as you cheer on your favorite teams with an integrated sound system, wiring for multiple tv screens, a garage door leading to the backyard BBQ, or even a bar with your favorite beer on tap.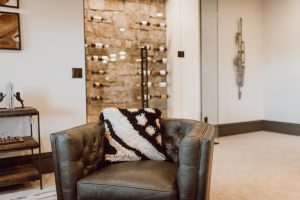 Wine Bar And Room
A wet bar may be a popular choice for finished basements however, the style of your custom home may call for something more upscale and sophisticated. Instead of a small bar against a back wall, make your bar a refined focal point of your home design with a wine bar and wine room. Custom-built wine racks and high-end wine refrigerators allow you to display your wine collection and keep your favorite wines at the ideal temperature. For wine connoisseurs, a complementing climate-controlled wine room or wine cellar will make your home the perfect place to enjoy a glass of your best red or white. 
Kids Play Area
For families building their forever homes, the basement offers the ideal area for a family room and kids' play area. Playrooms have long been associated as a space in the house where toys are strewn everywhere and kids play freely, but building your custom home allows you the freedom to create a space that inspires imagination and encourages engagement. The ultimate kids' play area offers the ability to play and pretend, but it also gives parents a space where they can comfortably spend time with their children. Your play area could include a game table or a cozy movie-watching corner; it might offer a reading nook or built-in playhouse; it could have an indoor climbing wall or an oversized arts and crafts table, but you can be sure it will be a beautiful space where memories will be made.
As with any aspect of your custom home, the possibilities for your finished basement are endless. At NoCO Custom Homes, our goal is to work with you to build the home of your family's dreams from top to bottom. Contact us today to learn more about the possibilities for your custom home in Northern Colorado.