Contemporary-style homes offer a design that evolves with the times and reflects the architecture of today. Characterized by simplicity, contemporary design feels up to date and versatile, making it a popular style for custom homes. Building a custom home offers the opportunity to create a design that is uniquely your own while maintaining an aesthetic appeal that will remain adaptive to current trends for reselling potential. With contemporary design, achieving both can be done without sacrificing on individuality or sophistication.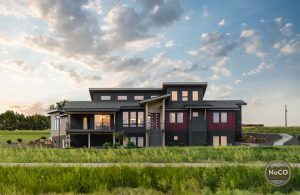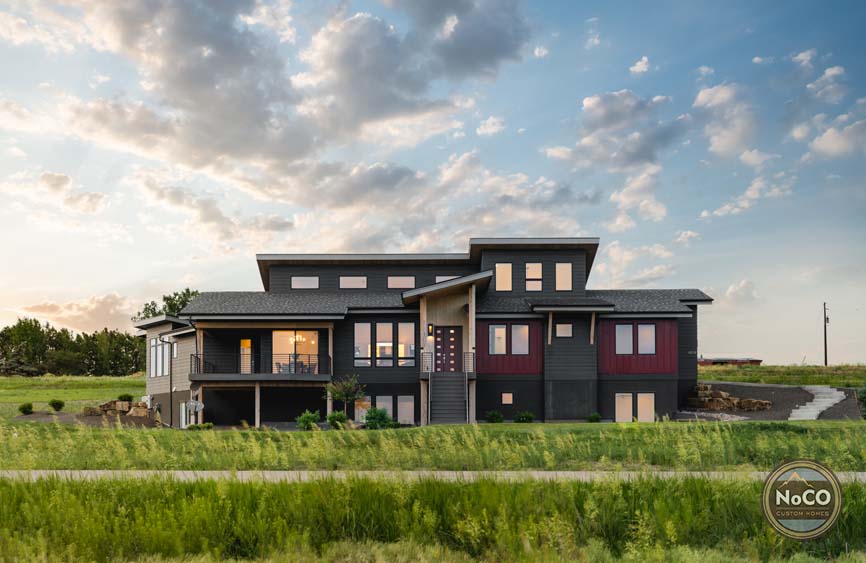 What Is A Contemporary Style Home?
A contemporary home is reflective of current design and architecture by changing and growing to fit emerging styles. It is often confused with modern design, but in reality, contemporary is a better representation of modern-day style. In essence, contemporary style will borrow popular elements from preceding and current design styles to push the boundaries of what is new and in demand.
What Characterizes Contemporary Design?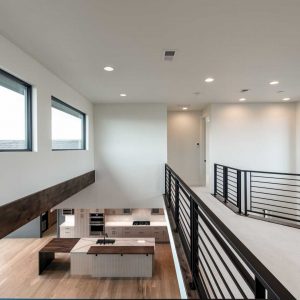 1. Simple Open Architecture
Contemporary architecture aims for open floor plans with living areas that flow seamlessly between spaces. Interiors are designed with clean lines, to showcase the space itself rather than items used to fill it.
2. Clean Uncluttered Spaces
Contemporary embraces a warmer degree of minimalism. Rooms are designed to be uncluttered, well-balanced, and intentional. Spaces on walls or between furniture are often left bare in to emphasize simplicity, while non-ornate décor and furniture is typically selected to maintain modern yet classic sophistication.
3. Plenty of Light
To best accentuate that feeling of openness, contemporary-style homes place an emphasis on both natural and artificial light. Large windows are sleekly outfitted with simple trim or casings (if not devout of them entirely) allowing natural light to permeate the space without the fuss. Complementing artificial light then focuses on functionality or creating ambiance using track or recessed lighting such as in this light and contemporary home. By intentionally putting a focus on the way that both forms of light worked together, other distinctive features of a contemporary design were beautifully showcased.
4. Simplistic Colors
Contemporary homes find balance in a basic neutral color palette of primarily whites, beiges, and black. While lighter colors help to brighten, black provides an understated boldness that has become a defining characteristic of contemporary spaces.
5. Strong Visible Lines
In both architecture and design, contemporary style places an emphasis on clearly defined lines. Whether they are incorporated vertically, horizontally, or curved, lines are an essential design component found throughout a home. Lines are used to highlight structural details and distinctions, but they're also seen in the decorative selections that are used to complete the space. Clean lines even extend to flooring where smooth materials such as wood, tile or luxury vinyl are chosen to maintain fluidity in the floor plan
6. Metal, Stone, and Glass
Different from the wood and earthy elements of modern design, contemporary design uses metals, stones, and glass to accent. This difference in materials is what creates the warmth and inviting feeling that permeates through contemporary sleekness and neutrality.
7. Texture Over Pattern
Contemporary style homes avoid busy prints or patterns as they take away from the intentional simplicity of their design. In lieu of prints, materials with texture are used to add dimension, warmth, and personality.
8. Elements of Modern Design Styles
Modern refers to the style prevalent during the 1950s-1960s, dipping even into the 1920s-1930s and extending to the 1970s; in short to an era of the past. Contemporary features design elements from mid-century modern, Art Deco, and even vintage elements from the 70's such as those clean architectural lines, minimalism, simple/neutral color palettes, and openness. Throughout this contemporary home, you can see how modern and contemporary came together to create a home that is sleek yet inviting by pairing smooth lines, color, and wood from modern design with the white, black, and abundance of light of contemporary.
At NoCO Custom Homes, we've worked with many homeowners seeking to build a contemporary-style home in Northern Colorado. Contact us today to discuss the details that come together to create a home uniquely fit for both your lifestyle and current-day trends.