Arguably one of the most popular styles in home design is the modern farmhouse. Modern farmhouse style embraces the warmth and comfort that has characterized country design and streamlines the individual features of its aesthetic to meet the demand of contemporary design. It creates a home that feels cozy yet remains minimal, practical, and timeless. 
Our goal at NoCO Custom Homes is not to build houses, but to build homes that will remain inviting and timeless.  For many of our clients, the key to achieving this feeling in their homes has been the elements that are featured in modern farmhouse design. 
Design Elements of Modern Farmhouse

Modern farmhouse is more contemporary than it is country in its features however, the manner in which those elements are brought together is what evokes that cozier feeling and atmosphere. Achieving modern farmhouse style is most effectively done by layering a variety of features from both sides leaving spaces with comfort, personality, and simplicity.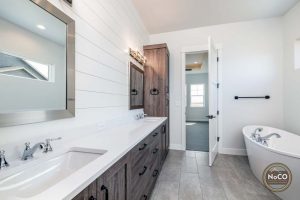 Neutral and Contrasting Colors
The foundational color palette of modern farmhouse design is characterized by layering shades of neutrals such as white, cream, beige, and gray. The brightness brought from this neutral background is then modernly accented with black or other deep colors. Black adds edge and contrast making neutral colors stand out. In many homes, neutrals use black in small doses and opt for softer contrasting colors such as shades of blues or greens. This farmhouse jewel incorporated a beautiful jewel-toned teal throughout the home to bring to life the whites and light grays found throughout.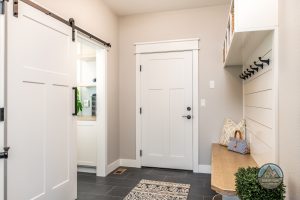 Layered with Natural Wood
To bring the touch of rustic farmhouse, these colors are typically layered with natural wood tones and materials. Salvaged woods bring a natural element to the space and effortlessly pull in the comfort of the country without affecting the contemporary feel. Weathered wood finishes whether on exposed ceiling beams, naturally finished flooring, or the various nuances in between all work together to add warmth to the space.
Diversity of Materials 
This design pulls in wood elements in addition to a variety of other textures and finishes to connect farmhouse and modern. A mix of metals in hardware and light fixtures and a combination of materials and fabrics in furnishings come together to add character and dimension to the modern component of its architecture. Incorporating coordinated elements of varying materials, fibers, and sizes are what make the biggest impact in creating that cozy interior.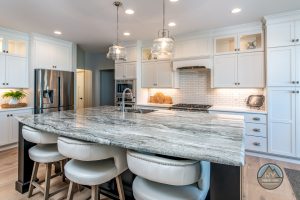 Clean Lines And Open Spaces
A distinguishing feature of modern farmhouse design is the openness and minimalism of its architecture. Typically designed with open floor plans, straight lines, large windows, and vaulted ceilings, sophistication is not lost in its charm. Clean lines are found in details throughout from doors to fireplaces to architectural ceiling detail such as in this charming farmhouse. The simplicity of a more modern architecture allows light and air to flow through the home embracing the organic appeal of a traditional farmhouse. 
The beauty of modern farmhouse is that there is no right way to achieve the design. Elements can be beautifully blended in many different ways to craft a home that fits your family, lifestyle, and vision. NoCO Custom Homes aims to build homes in your style preference, but uniquely designed and crafted to be the home of your family's individual dreams.
Contact us today to learn more about the possibilities that come with building a modern farmhouse home in Northern Colorado.