Creating A Dream Chef's Kitchen In Your Custom Home
The kitchen is often referred to as the heart of the home; the space that effortlessly brings together family, friends, and guests regardless of the occasion. Whether your passion is preparing large meals for your family, experimenting with new recipes, or filling your home with the delicious smell of baked goods, the kitchen is where it all begins.
For the chef of the home, the perfect kitchen can be the inspiration for creating both new and favorite dishes while offering the efficiency needed to make it happen. Building a custom home in Northern Colorado will allow you to design the kitchen that will gather together those you love most.
To create your dream chef's kitchen, your kitchen design must meet the needs of your family, but it must also provide a space that is welcoming, functional, and motivating. Designing your perfect kitchen will depend on your own culinary preferences, but with a few considerations you can whip up the warm and inviting space that will serve up both good food and good memories.
Create A Functional Layout
The layout of your kitchen is one of the most important things to consider. A chef's kitchen must be functional and well-planned out to avoid disasters, spills, or burnt meals. With the right layout, your movements will flow efficiently as you cook, but it can also keep the space from feeling congested and cramped.
To make the most of your kitchen layout, start by making sure you have plenty of space not only within the overall floorplan but also within the designated area of the kitchen. An open floorplan with a center island is one of the most popular and effective ways to maintain functionality and fluidity in your kitchen.
A few things to keep in mind include:
Maintaining a comfortable distance between fixtures such as between the stove, sink, and prep area.
Plan for sufficient, but not excessive space between the island and cabinetry
Consider where you want your sink first and then coordinate appliances from that point
Place the stove on an exterior wall to anchor the purpose of the space, while ensuring proper ventilation
Design the functional needs of your kitchen to complement the personal needs of your family and the ways that you will use the space collectively
Provide yourself with ample surface space for prepping your meals and then serving those dishes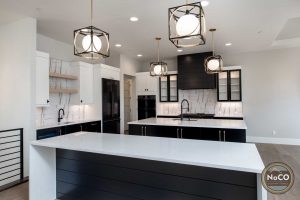 In this beautiful contemporary home, the layout of their kitchen played a key role in achieving the sophisticated vision they had for entertaining at the center of the home. With two oversized kitchen islands and a designated bar area, the layout provides function, flow of traffic, and unique opportunities to gather, mingle, and serve.
Pick The Right Appliances
The right appliances for your kitchen will greatly depend on your lifestyle and your cooking preferences. If you love to cook, you might consider a professional grade six-burner gas range. If you love to bake, double ovens are a necessity. If you love to entertain, an oversized refrigerator, or even supplementing that with a designated drink fridge, will make that easier to do.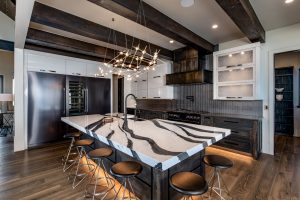 For inspiration, you might take a look at the sleek Dacor professional series appliances found in this impressive custom home. To complete their dream chef's kitchen, they chose
Dual Fuel Range with steam oven and griddle
Microwave Drawer
Built-In Column Refrigerator and Freezer
Built-In Wine Column Refrigerator
Together these appliances created the ideal space for cooking, entertaining, and gathering together for any type of occasion.
Customize Your Cabinetry
Custom kitchen cabinets can do more than provide storage, they also play an important role in running a functional kitchen and creating an eye-catching space.
Plan your cabinetry to complement the appliances and fixtures they surround to accommodate you as you cook such as adding specialty pullouts or built-ins that will allow you to conveniently access cookware, spices, and even Tupperware. Your cabinetry pullouts can be customized to include anything from push to open trash and recycling through to built-in paper towel holders and everything in between.
Even with efficiency in mind, custom cabinetry can also add to the stunning décor scheme of the space. From varying materials and colors to glass fronts or open shelving, a chef's kitchen can be as beautiful as it is practical.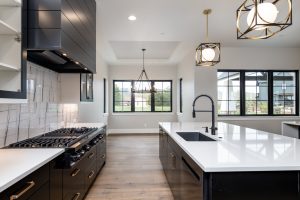 Add Those Extra Features
All chef kitchens need appliances and cabinets, but completing your dream kitchen could come down to those small and additional features. This might include a pot-filler over the range or a warming drawer to keep dishes warm for large family gatherings. Or maybe you love the idea of having two sinks to accommodate cooking and cleaning. You could even spring for a built-in coffee maker or instant-hot-and-cold water at your kitchen sink. Take the time to consider the unique additions that could take your kitchen to the next level.
At NoCO Custom Homes, our goal is to build a home customized to fit your lifestyle and vision. We will work closely with you to help you choose the features, fixtures, appliances, and layout that will work together to create the chef kitchen you've always dreamed of.
Contact us to start dreaming up your custom home, complete with the perfect kitchen!