4 Design Features to Add Character to Your Custom Home
Building a custom home gives you the freedom to design a space that is completely tailored to your style and preferences. With seemingly endless possibilities, however, you may feel overwhelmed on how to add character to the home.  At NoCO Custom Homes, we work closely with our clients helping them to personalize their home in a way that is unique to them. Here are four of our favorite ways to add character and charm to any home.
Flooring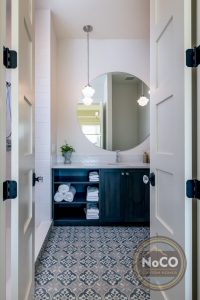 The floors you choose for your custom home make a significant impact on both the look and feel of your house. As one of the largest elements of design in a home, flooring has the ability to take new construction from a blank slate to a distinctive and attractive home. It is often what sets the tone for interior design, allowing you to influence architecture into your personal decorative style. Your flooring selections can also affect the atmosphere in the home impacting the feel of each room both individually and collectively.
Flooring can be chosen to fit every design scheme regardless of preferred colors or style. For example, reclaimed wood floors can provide the perfect backdrop for a farmhouse or rustic design, while sleek white oak hardwoods can adapt the home to fit a more modern feel. Tile is available in a wide range of colors and materials creating a unique opportunity for built in charm through color or pattern. For homes looking to create a more industrial feel, concrete flooring will provide the perfect complement to other contemporary design selections.
Regardless of the type of flooring you choose, there is a style, color, and feel that will serve as the foundation for the overall design and décor of your new custom home.
Accent Walls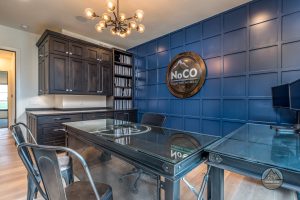 While flooring accounts for a more permanent and long-term selection, you can easily add (and easily change) character through another large design element: the walls of the house. The primary paint color you choose will undoubtedly make the biggest difference in the look and feel of the home, but through unique accent walls you can bring even more charm and appeal to any room of the house. An accent wall can influence the entire feel of a space by adding color, dimension, and eye-catching design.
Accent walls can be done on small walls, such as behind a powder room vanity, or on large expansive walls in a great room. Accent walls can be created using a variety of elements from tile to wood and paint to wall paper. Whether you choose bright paint or board and batten, shiplap, or stone, an accent wall allows you to make a statement without overpowering the space.
Unconventional Materials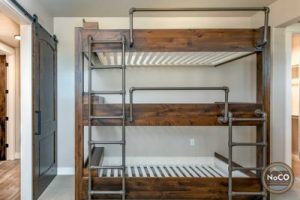 As we've mentioned, custom building offers extensive opportunities for creating the home that fits your vision and fulfills your dreams. By using a combination of both traditional and unconventional materials, you can incorporate a number of features to meet the needs of your family, the demands of your lifestyle, and the aspirations for your home.
You may aim to build a home that is sustainable and environmentally friendly leading you to use reclaimed, recycled, or repurposed materials such as beetle kill pine for an accent wall.
Or perhaps you hope to have a home that will accommodate a large number of guests leading you to design built in industrial pipe bunk beds. Unconventional materials can also be to enhance character of traditional features such as petrified wood for a bathroom sink or a black walnut slab for the basement bar top.
Custom Features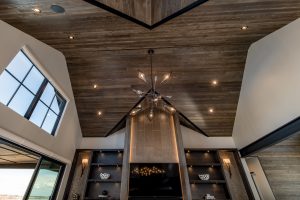 With the freedom to build in nearly anything, a custom home allows you to a
dd features that are exclusive to your home. At NoCO Custom Homes, we are proud of the unique relationships we have developed with local contractors of many fields to help us bring to life distinguishing features that set giving you a home filled with personalized character and charm.
Among our favorite custom features is the hand-framed reclaimed wood ceiling and custom framed tilt wall of this stunning home. Custom features can also be seen in the overall architecture of a home, not simply in individual elements; as seen in this home where the homeowners sought to provide beautiful mountain views from nearly every room in the home.
For more ideas on how to add character to your custom home, call our team at NoCO Custom Homes today at (970) 581-0481.