Meet Dani Jones – Selections Coordinator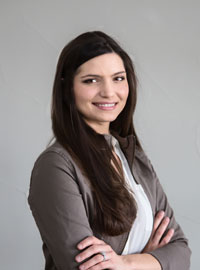 It's no secret. NoCO Custom Homes has a strong track record of building beautiful homes. Spend a mere few minutes on the NoCO Custom Homes website, Facebook or Instagram page and you can see for yourself!
However, have you ever wondered about the personalities and brainpower behind these intricate creations? It all begins and ends with a dynamic husband and wife duo – Jason and Dani Jones.
Recently, Dani Jones gave us some insight into her role in the home building process:
What is your favorite project that you have worked on and why?
"I actually don't have a favorite project. When I reflect on the homes that I have worked on, each creation has a different story that has been shaped from the unique vision and desires of our clients. I have truly enjoyed collaborating with our clients to help develop this creative outward display of what they envision their home to become. It is so fun!"
What is your favorite and least favorite part about working with your husband?
"People ask this one a lot! Jason and I are lucky to get the opportunity to collaborate with each other on a creative and professional level every day. We have a lot of fun with it and balance each other out well. I love getting to work in conjunction with Jason as we continue to grow our business. I would have to say though, my least favorite part about working together is Jason's morning alarm clock. He is such an earlier riser! A 3:30 a.m. wake up call is just not part of my genetic makeup."
What is your involvement in the process of building a custom home?
"As the Selections Coordinator, I work very closely with our clients and vendors to make sure we can bring visions to fruition in a functional way. At times, it can feel like there are a million steps that need to go into effect just to complete one room. From flooring to vanities to countertop tiles and more, every selection made will inevitably affect the next selection in the process. For example, selecting a uniquely crafted vessel sink for a bathroom will dictate what the height of surrounding cabinets should be set at. My role in this process necessitates a constant stream of clear and concise communication between our clients and vendors to assure we can accomplish our end goal."
What do you like most about your job?
"Being involved in the home building part of our client's lives is such a special opportunity. Building a dream home is often an idea that remains in the dream stage for so many people. It is not something that everybody gets to experience. And for those that do, it likely will only happen once or twice at most. Helping our clients not only build their new home but create a new life for themselves is such a transformative experience. I am so lucky to get to be a part of that transition."
What is your greatest piece of advice for someone building a custom home?
"It is crucial to pick the home builder that is a good fit for you! Building a custom home is a marathon of a project. It does not happen overnight. If you are entertaining the idea of building a custom home, mentally prepare for a process that will last for around 2 years. This process will be incrementally more enjoyable if you choose a team of home builders who you enjoy working with and can grow a strong and cohesive relationship with."