Building a custom home creates opportunities for you to tailor both your house and your yard to uniquely fit the needs and desires of your lifestyle. Your custom home isn't limited to interior finishes and floor plans; it extends through to the outdoor spaces that surround your house and complete the custom design you've dreamed of.
When you build a home with NoCO Custom Homes, we take more than your square footage into mind. We take a careful and comprehensive look at your lot to help you bring your complete vision to life both inside and out. While our expertise lies within the house, we aim to build a home that will beautifully integrate alongside the landscape architecture that you ultimately hope for. To help you as you complete the vision for your custom home, here are a few things to keep in mind as you begin to develop your own landscape design.
         
Choose To Work With Local Professionals
To build the home of your dreams, you trust in our expertise as your Northern Colorado custom homebuilder. For the yard of your dreams, make sure you turn to the expertise of local landscaping professionals. Their knowledge, skill, experience, and resources will create customized and innovative landscaping that will fit the needs of your property and the vision for your home.
A professional landscaper has in-depth knowledge of local weather and climate, along with knowledge about the various elements that go into creating a landscape design. They have the skill and resources to make your dream a reality, but they also have the artistic vision to help you when all you see is dirt. From grass and plants through to outdoor living, professional landscapers offer you the best opportunity for beautiful, functional, and long-lasting landscape architecture.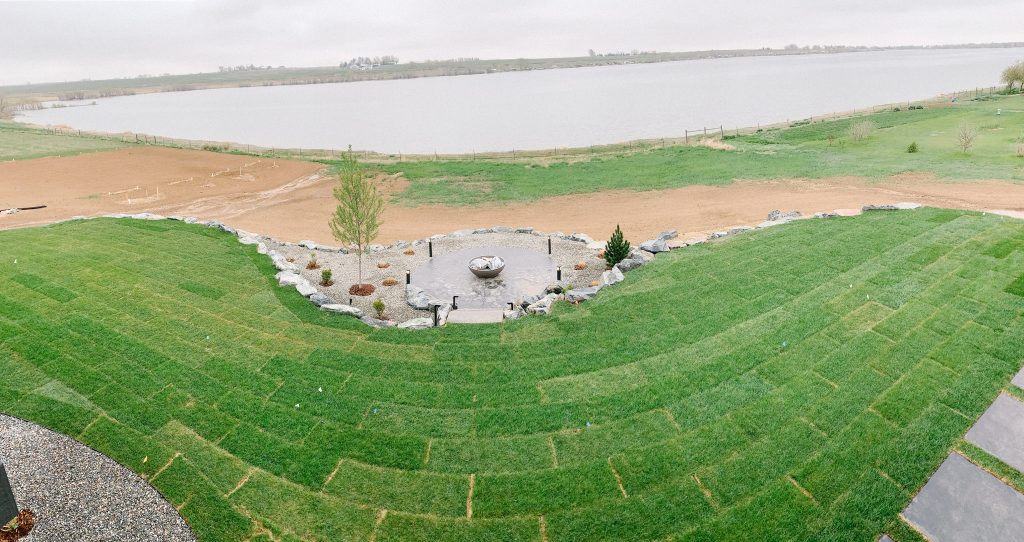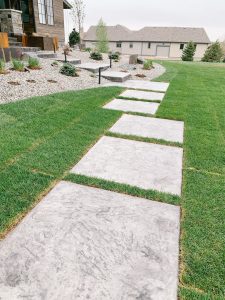 For our new personal home, we proudly partnered with Lindgren Landscape to help us create the perfect outdoor complement to the unique architecture and design of our home. With their expertise, we are able to achieve custom landscaping that fit our vision while adding character and enhancing our curb appeal.
Here are just a few ways that working with Lindgren Landscape helped us create our own custom landscaping design.
1. Keeping Key Considerations In Mind
For every landscape plan, there are many important aspects that must be considered. This includes soil conditions, water requirements, sunlight, and exposure to elements through to how we intend to use our landscape, how much maintenance we are willing to do, and ultimately what our budget was. Each plays an important role in plotting out the landscaping plan for any home. To design our outdoor space, Lindgren Landscape took ideas that we had collected and listened to what we hoped to accomplish with our outdoor spaces and then developed a landscape plan that best met our wishes and the important considerations of our property.
2. Designing Landscaping Around Necessary Elements
Because every project is different, there is not a defined list of mandatory requirements for landscaping, however there are many crucial and necessary elements to ensure healthy and attractive landscapes. A well-designed irrigation system and soil amendments are two major components of flourishing landscaping. Other necessities will vary depending on the nature of your site and the needs of your individual selections. With these elements in mind, Lindgren helped us as we decided where the individual details of our design would go and how to make each aspect work together.
3. Strategic Selection Of Materials
The best materials for each project will vary depending on design purposes and durability needs in addition to the basic considerations of the plan. By carefully picking materials to fit our home, the team at Lindgren Landscape made it possible to create a customized design that allowed us to extend the aesthetic appeal of our home beyond the house itself.
Their expertise helped us choose high quality materials that would be durable, while their artistic skill helped us to choose attractive materials that would add beauty. For example, rock ground cover and ornamental boulders were specified to be grey to complement the colors on the house and black landscape lights were chosen to blend nicely with the fixtures on the house. Their knowledge of the Colorado climate also helped us as we chose plants that would thrive, flourish, and add character to our property
4. Choosing Elements That Are Custom And Unique To The Home
Professional landscapers offer so much more than plant selection and installation. They have the unique artistic vision to take your landscaping beyond green grass and pretty flowers. They candesign landscaping that is unique and customized to your home from the smallest detail to the largest element. For our home this design extends from curb appeal for both our house and detached workshop through to enhancing the natural beauty of the lake behind us. It also included having a welder create custom metal planters and screens that drew inspiration from the house itself. To make these details even more unique to our home, they had a rock quarry saw slots into the gray ornamental boulders in order to receive some of the metal screens. These types of elements can transform a lot and provide the perfect finish to your custom home.
Ready to start designing your own custom home? Contact us to get started!