Building a custom home in Northern Colorado allows you to create the home of your dreams without feeling trapped into one specific design style. Blending design styles has become increasingly popular as it allows homeowners to piece together the individual elements that most appeal to their own personal style, making a custom home truly customized. 
Two of the most popular styles to bring together are traditional and modern designs. By taking some of the key characteristics of both, you are left with a transitional style home that carries the character of a traditional home with the sleekness of a contemporary one. Transitional style homes are classic yet current offering a beautiful balance between many of the defining features of both traditional and modern homes. 
Design Elements of Transitional Style Homes
Transitional design is characterized by a unique blending of traditional and modern elements to bring the best of both worlds to your custom home. Some of the defining elements of transitional homes include:  
1. Neutral Color Palettes
With neutral colors throughout, transitional homes feel clean and peaceful. Whites, off-whites, taupes, tans, and grays are used to create a soft and calming aesthetic. Using muted hues for paint colors, cabinetry, and furniture creates a space that feels sophisticated and timeless that can easily adapt to both traditional and modern finishes.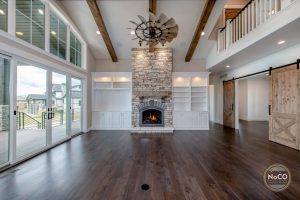 2. Textural Elements
The subtlety of the neutral color palette allows for the addition of a variety of different textures throughout the home. Texture can be incorporated into anything from flooring or tile backsplashes to fabrics and home décor bringing dimension to neutral color choices. Texture is also incorporated through the layering of different materials or in large-scale patterns. In this home, wood, stone, metal, and tile were used to bring texture throughout the space as a modern complement to the traditional elements of the design tailoring the transitional style of the home.  
3. Dark Accents For Contrast
To bring depth to the color selections throughout, darker hues are used in accenting features. Black is often used on windows or railings, while dark wood finishes are chosen on accent cabinetry. Dark colors can also be brought in with furniture or window treatments to keep soft neutral colors from feeling monotonous. 
4. Minimalism And Clean Lines 
Modern design in transitional style is most evidently seen with the use of clean lines and a minimalistic approach. Transitional style opts for simplicity in architectural lines as well as in decorative details to create interest without overwhelming a room. Character is ensured in the space by seamlessly combining different traditional and contemporary elements rather than with ornate additions.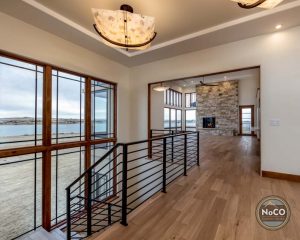 5. Large Scale Windows 
Transitional homes aim to bring in as much natural light as possible to extend that feeling of balance. Using large oversized windows volume is added to the design of the home without affecting proportions, while natural light enhances neutral colors. In this home, windows played a key role in creating a transitional home that felt clean and modern, yet warm and organic. 
6. Comfortable Sophistication 
To continue the balance between traditional and modern, transitional homes aim to feel comfortable without sacrificing on aesthetic appeal. Upholstery can be used to ensure a feeling of warmth, while polished modern light fixtures help to counteract the traditional feel that comes with upholstered elements.  Through a variety of masculine and feminine features, transitional spaces feel welcoming and inviting, but also sophisticated.
Contact NoCO Custom Homes today to learn more about transitional style design or to discuss the design styles that could be combined to make the custom home of your dreams.