With over three hundred days of sunshine each year, Colorado is one of the most sought-after places to live in the country. People who love spending time in the outdoors choose to move and settle down here to make the most of all the state has to offer. Sitting at the base of the Rocky Mountains, Northern Colorado offers more than just beautiful views and outdoor activities making it one of the fastest-growing areas of the state and the perfect place to build a custom home.
As a locally owned company, NoCO Custom Homes understands the appeal of the great outdoors just as much as we understand the appeal of enjoying the outdoor space in your own backyard. We keep the desire to spend time outside in mind with every design aiming to build homes that will maximize the space on their lot.
Whether we're positioning the layout of the home to catch beautiful views of the mountains, working to soak in as much sunshine as possible, or taking advantage of the unique topography of the lot, we work closely with our clients to select outdoor features that will complement the interior design of the home while making the most of your yard. Here are 7 of our favorite ways to maximize the outdoor design of your Northern Colorado custom home.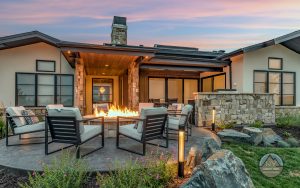 Patios
Nothing beats being able to take a single step out your front or back door and feeling like you are walking into an extension of your indoor space. Patios are built with the intention of creating comfortable and welcoming open-air living spaces that connect your home to the outdoors.
Typically made of brick, stone, or concrete, patio design can be customized to fit your vision just as the interior of your house can. There is a wide array of possibilities for your custom home patio such as multi-level patios to one that is large and open, one with landscaping to one with a built-in fire pit, enclosed or open.
Decks
Whether you have an expansive deck built off the communal living space or a smaller balcony off the master bedroom, this is a great way to create an outdoor living area for relaxing, entertaining, or simply to take in the beautiful Colorado views.
The deck of your custom home could connect to your living room with a double-sided fireplace, but you could also unite the two spaces with floor-to-ceiling windows. Your deck could be completely covered or cover just one section and let the sun shine on another. It could wrap around to the front of the home or leave it wide open flowing freely into the yard space.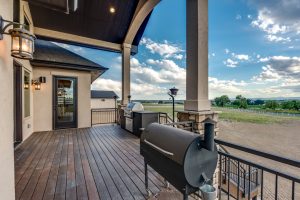 Outdoor Kitchens
Cooking and eating outdoors is a summertime staple anywhere, but in Colorado, beautiful days come along all throughout the year. Having a space dedicated to cooking outside gives you the unique ability to truly maximize the use of your outdoor space.
Outdoor kitchens can be equipped with everything from a grill or smoker to pizza ovens. You can decide on a sink or the amount of prep space to include. An outdoor wet bar and refrigerator are other features that can be added to fully enjoy cooking outside. Most outdoor kitchens are even built with an overhang to help project your appliances from Colorado weather.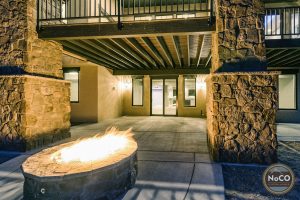 Outdoor Fire Pits
Possibly used just as much as an outdoor kitchen would be, an outdoor fire feature such as a built-in fire pit opens the outdoors to you all year long. Outdoor fire pits can be made to fit the design of your landscaping or integrated into the design of your patio giving you the warmth and mesmerizing ambiance of a campfire from the comfort of your own home. If you want something more sophisticated in feel, you could opt for an outdoor fireplace instead giving you a place to sit and enjoy a cup of coffee, glass of wine, or good conversation.
Outdoor Stereo Systems
Good music goes hand in hand with good food at any summer BBQ. With an outdoor stereo system wired exclusively for your yard or deck, you can make your backyard the place to be. Outdoor sound systems are designed to not only withstand weather or temperature but also to cut through the noise that comes from gusts of wind or falling rain. Speakers are made to blend in and work with the aesthetics of your landscaping so that your favorite song plays loud and clear. With Bluetooth technology, you can connect outdoor stereo systems to your favorite music app on your phone or to an outdoor TV so that you can even enjoy your favorite show or movie under the stars.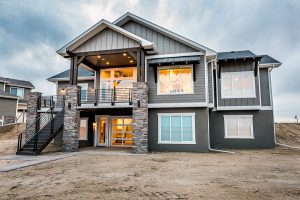 Garage Doors
As you design the floor plan of your custom home, you will surely consider how the interior of your home flows out to the exterior spaces. A unique and eye-catching way to create fluidity is with a roll-up garage door. Garage doors aren't exclusive to the garage: when built into the lower level of your home, they can be used to open your house up to a large outdoor space adding a modern and dynamic element to any space. Garage doors can be found in a variety of styles to provide a statement for any design or décor style.
Veranda
Verandas are roofed platforms typically built level with the ground floor running along the outside of a house. These spaces offer the feeling of being inside and outside at the same time providing shelter from weather conditions while still making the most of sunshine and fresh air. Most verandas are designed to be cozy and welcoming creating the feeling of an additional room for dining, entertaining, or simply spending time with those you love. Many are built out from large vaulted windows that can be opened on a nice warm day for a sweet breeze or closed tightly to enjoy the beauty of a soft rain or snowfall in warmth.
With a custom home in Northern Colorado, you decide the design of your home both indoors and out fit your lifestyle, preferences, and the vision you have for your dream home. Contact us today to learn how NoCO Custom Homes can help you make the most of your outdoor space in your next custom home.