Maximize Your Outdoor Space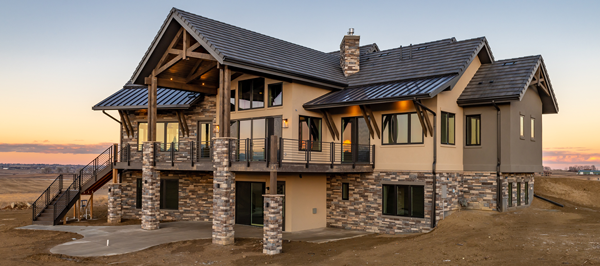 Spending time in the outdoors is one of the many reasons people choose to move to Colorado. Sitting at the base of the Rocky Mountains, northern Colorado offers beautiful views and over three hundred days of sunshine each year, making it a heavily sought-after place to build custom homes.
At NoCO Custom Homes, we keep the desire to spend time outside in mind when designing each home. We set the intention to help our clients maximize the space on their lot by building in outdoor features like the following:
Patio: Nothing beats taking a barefoot step out your front or back door and feeling like you are walking into an extension of your indoor space. Patios are built with the intention of creating a comfortable living space right out your door. With a patio connected to your home, there is never and excuse to not spend time outside on a nice day.
Balcony: Whether the balcony is built off a communal living space or the master bedroom, they provide a nice outdoor getaway to soak up some quiet time, read a book or simply take in the views.
Veranda: A veranda is a roofed platform built along the outside of a house, level with the ground floor. Often, this space serves as a cozy nook (hopefully located in a sunny spot) that offers the feeling of being inside and outside at the same time. Most verandas are built predominately with large vaulted windows that can open on a nice warm day to provide a draft of fresh air, or lock closed tightly to enjoy a soft rain or snowfall in warmth.
Outdoor Kitchen: Why not cook in the outdoors during the summer time?! Having a space dedicated to cooking outside with a grill helps keep the sizzling summer heat outside of your indoor space. And an outdoor wet bar makes it easy to grab a cold one and enjoy the cooking process! Most outdoor kitchens are built with an overhang to help project your appliances from any afternoon rainstorms.
Garage Doors: These days, garage doors aren't only used for your garage. When built into the lower level of your home, they can be used to open your house up to a large outdoor space.
When building these outdoor spaces, depending on the lot, NoCO Custom Homes tries to design areas that will either maximize sun exposure or catch the beautiful westerly facing views of the mountains. With these two elements combined, what's not to love about your outdoor space at your custom-built home?!
Contact us today to learn how we can help you make the most of your outdoor space in your next custom home.