When designing your dream home, there is a lot to consider! Sure, you need to plan space around the necessities like how much space you need for your kitchen, bathrooms, and bedrooms, but have you considered dedicating space for a home gym?
As custom home builders in Colorado, many of our clients take their physical fitness seriously and want to integrate that value into their home's design. Let your fitness take priority when dreaming up your new life in your custom-built home! As you begin planning, consider the following key factors so that you can create a home gym that you will actually use!
Location, location, location
Consider the noise! Between the equipment, pump-up music, and casual lifting grunts, gyms can be loud. Basements can be an optimal location for gyms as they are tucked away and on the lowest level floor so that pounding can't be heard throughout the house.
Need some views? Homes in Colorado typically benefit from having beautiful views. Consider placing your gym in a spot that overlooks the mountains, greenery, trees, a lake or water feature, or simply an open outdoor space that allows light to trickle in. (Pro tip: walk-out basements are a great way to get great views PLUS keep the noise level down as mentioned above!)
Create your escape. Working out should be your time to tune out the rest of the world and focus on yourself for a while. Try and position a home gym so it's out of the way of everyday traffic in your home so you'll be less likely to get interrupted by kids, your spouse, your pets, or the random to-do's that pop into your head.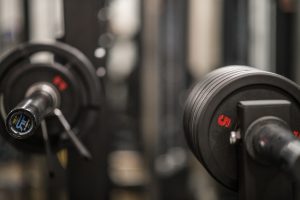 Assess your household needs
Who will be using the gym? Your gym should be friendly and approachable for anybody who needs to use it! Even if you have a wide range of ages in your household or plan on having friends over for a workout, design your gym to cater to everyone's needs. Consider installing a multi-use floor (like a commercial rubber gym floor) that will provide comfort and stability to a wide variety of activities.
Type of workout. Heavy lifting? Yoga? Endurance? Hone the types of workouts that are most likely to get you moving and motivated! And remember – less is more. You don't have to include it all.
Cater to your style!
Aesthetics matter. Breaking a sweat is as much about improving your fitness as it is about maintaining strong mental health. Create a space that is welcoming, invigorating, and aligns with the style of the rest of your home.
At NoCO Custom Homes, we love working on specialty rooms like home gyms. If you are dreaming big about committing to your fitness at home, let us help you refine your vision! Contact us for more information and let's design your dream home.