A beautifully finished basement adds value and square footage to your custom home, but it can also provide the perfect space for a home wet bar. Adding a basement bar to your home design will give you great opportunities for entertaining or a quiet place to unwind after a long day. Whether you're hosting this year's Super Bowl party, having a few friends over for drinks, or simply want to enjoy your favorite cocktail without going out, your basement bar is the place to be.
Regardless of if you want the bar to seamlessly flow with the design and décor of the home or you want it to stand out as its own unique space, the possibilities for your basement bar design are endless.  Here are 7 ideas to make your basement the coolest place in town.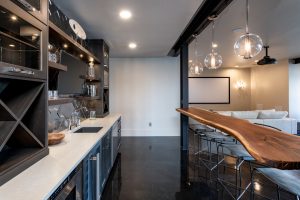 1. Unique Countertop Material
Arguably one of the most important features of a basement bar is the bar top itself. To make it a topic of conversation, you might look past traditional materials such as quartz or granite and use something unique and different. Concrete and steel would give a modern edge to any industrial design scheme. Or you might look into a live edge wood slab such as the black walnut used in the basement bar of this mountain chic home. A custom wood slab brings a sense of rustic sophistication that can complement a variety of design styles.
2. Floating Shelves
A growing trend for home wet bars is to replace wall cabinetry with floating shelves. Base cabinetry provides the storage and counter needed, while open shelves offer an eye-catching way to display the bottles and glassware that make a bar. As seen in this contemporary home, custom-built wood shelves create an attractive and functional accent for the stonework and black shiplap that complete this bar design.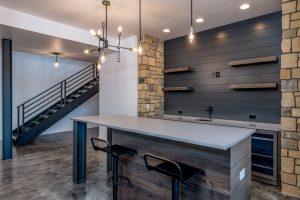 3. Eye-Catching Backdrop
Regardless of how big your basement bar is, you can make a statement with the space by incorporating a bold wall as a backdrop to your cabinetry or shelving. Opting for a more dramatic color, material, or design can create a visual focal point such as in this gorgeous home. Metallic tiles set apart the rich cabinetry and shelving, while enhancing the industrial beams and wood slab bar top across from it.
4. Under-Counter Appliances
A mini-fridge is a staple piece of a home wet bar, but adding other under counter appliances can take your bar to the next level in entertaining. Instead of just one small fridge, you could add an ice maker and wine refrigerator such as in this sophisticated bar, or you might even add a drawer microwave for snacks. For bars with a little more space, a dishwasher could even be added to make cleaning up after a party easier to do.
5. Classic Design
The beauty of a basement bar is found more in the people that gather and the moments that are shared. Before you choose the finishing touches, make sure you have a functional design that allows you to make the most of your space. This might mean a simple but classy wrap-around bar in the corner such as in this home or it might feature an island bar with multi-level countertop to make the most of the open space in this home.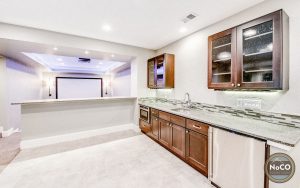 6. Extended Entertainment
You can make the most of your basement by designing the space to provide multiple forms of entertainment. The perfect complement to your bar could be a home theater room or a game area with a pool table. You might even plan for the bar to be easily accessible from the yard or patio like in this home with a glass garage door in its walkout basement. Wall-mounted big screen TVs can make it the perfect spot to watch the big game, while built-in sound systems let you play music to fit the mood.
7. Nostalgic Feel
A long-lasting trend in basement bar design is to create a space with feel-good nostalgia. In this home, the bar took on a mountain Colorado theme accented with Bronco memorabilia making it the best place to drink a beer and watch the game every Sunday. In other homes, nostalgia might come through retro 50's decor or a classic bar theme complete with dark wood and a paneled ceiling.
Just as the rest of the house, your basement bar in your custom home can be tailored to fit your interests and design style to make the space the perfect place to enjoy your favorite beer, wine, or cocktail. Contact us today to learn more about the possibilities for your home wet bar with NoCO Custom Homes.